Exciting news: we hear that Santa Monica's new Bike Center on the SW corner of 2nd and Colorado (215 Colorado), adjacent to the Santa Monica Place mall. We hear the Bike Center will open November 18. If you haven't already been eagerly awaiting the Bike Center as we have, here's a refresher on what the City of Santa Monica says to expect:
To promote the use of non-auto transportation, and bicycling in particular, the City is building a Bike Transit Center in its downtown core near the future terminus of the Exposition Light Rail Line. Consisting of facilities located in two Agency-owned parking structures (Parking Structure 7 at 320 Broadway and Parking Structure 8 at 215 Colorado).  The Center is intended to provide secure bike parking and a variety of mobility services, including retail, bike repair, bike rental, attended bike parking, public information on alternative transportation, and additional related services. The Center will be operated by an independent contractor. Check out the Bike Center web site athttp://www.bikesm.com/
While construction is still going on, we snapped a few preview pictures. Santa Monica is doing a good job of putting wayfaring signs up around town — there are a couple signs near City Hall, for example. This Flickr slideshow aslso has some shots of Santa Monica's traffic light bike sensors embedded in the streets, so bikers can trigger traffic lights to change, not just cars. (Gary Kavanagh, over at the Gary Rides Bikes blog has some comments pro & con about the specifics of the new street infrastructure.)
(The City website has some more preview pics of inside of the Bike Centers on their site.)
The centers will be operated by Chicago's Bike and Park (check out their snazzy website for the Santa Monica Bike Centers here).
The main Bike Center at 2nd & Colorado will over these services: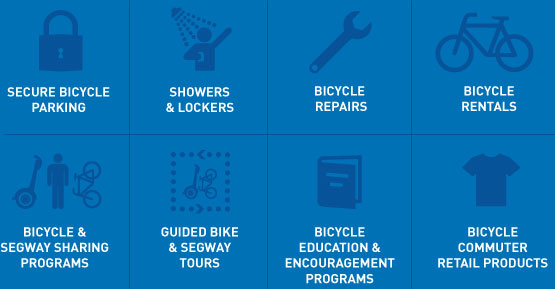 Opening weekend, the hours will be 11 am - 5 pm, according to Santa Monica Spoke. According to the Bike and Park website, the eventual staffed hours there may be pretty generous — til 10 pm Mon-Thurs, midnight Friday and Saturday, and 8 pm Sundays. Self service parking (with membership) will be 24 hours.
A Satellite Location at 4th and Broadway will be 24/7 self service and will offer these options: